Recommendation:

The ring should feel comfortable on your finger, so that it is tight enough not to slip, but at the same time wide enough to easily go over the finger joint
Finger circumference may differ depending on temperature variations. For best results, it is recommended that you determine the circumference of your finger at the end of the day, when your fingers are heated, because the circumference of your fingers is smaller when it is coldd
How to find the right size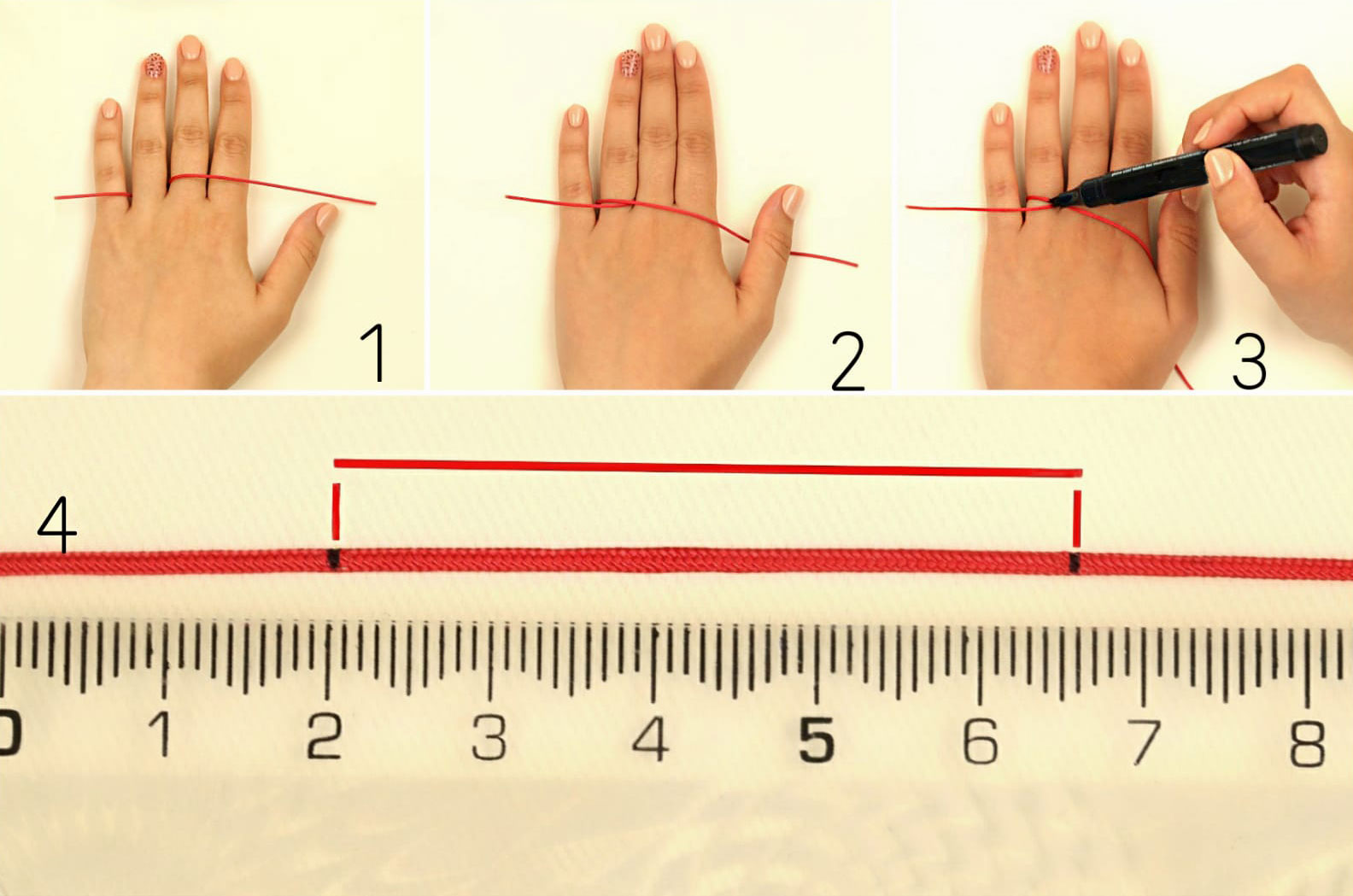 Method 1
Necessary tools: a piece of thread, a ruler in cm/mm and a marker/pen.
Set the thread around your finger
Wrap the thread around your finger (the circle formed should NOT be tight, on the contrary, it should be very loose).
Mark the overlap with a marker/pen
Stretch the thread perfectly over a ruler and measure the length in millimetres of the marked portion that formed the circumference around the finger.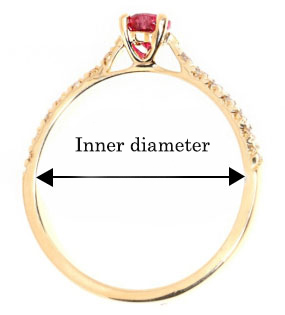 *Correlate the result with the size chart at the end of the article so that you may determine the right size.
Method 2
Choose a ring that fits you on the finger you will wear the new ring purchased, making sure that the ring has a style and width similar to the one you want to buy.
Have a ruler, a roulette or a centimetre in order to measure the inner diameter of the ring.
*Caution: Take into account every millimetre so that you have the best results.
REMEMBER: This guide has only indicative purposes. DeGEORGIA does not undertake responsibility for any inconveniences arising from the improper use of the above-described methods. For assistance, please contact us by phone on the number +40 729 059 968 or by e-mail address: office@degeorgia.ro  
*The most accurate measurement of the finger is determined by means of metal test rings found in jewellery stores. Therefore, consult the list of DeGEORGIA stores in the country and contact our advisors with confidence.
| Nr. crt | Circumference | Diameter | EUROPA | SUA | UK |
| --- | --- | --- | --- | --- | --- |
| 1 | 41 mm | 13 mm | 41 | 2 | |
| 2 | 42 mm | 13,3 mm | 42 | 2 | |
| 3 | 43 mm | 13,7 mm | 43 | 2,5 | E |
| 4 | 44 mm | 14 mm | 44 | 3 | F |
| 5 | 45 mm | 14,4 mm | 45 | 3 | G |
| 6 | 46 mm | 14,6 mm | 46 | 3,5 | G1/2 |
| 7 | 47 mm | 15 mm | 47 | 4 | H |
| 8 | 48 mm | 15,3 mm | 48 | 4,5 | I1/2 |
| 9 | 49 mm | 15,6 mm | 49 | 5 | J |
| 10 | 50 mm | 15,8 mm | 50 | 5,5 | J1/2 |
| 11 | 51 mm | 16,2 mm | 51 | 6 | L |
| 12 | 52 mm | 16,6 mm | 52 | 6 | M |
| 13 | 53 mm | 16,8 mm | 53 | 6,5 | M1/2 |
| 14 | 54 mm | 17,2 mm | 54 | 7 | N |
| 15 | 55 mm | 17,6 mm | 55 | 7 | O |
| 16 | 56 mm | 17,8 mm | 56 | 7,5 | P |
| 17 | 57 mm | 18,2 mm | 57 | 8 | Q |
| 18 | 58 mm | 18,6 mm | 58 | 8,5 | Q1/2 |
| 19 | 59 mm | 18,8 mm | 59 | 9 | R1/2 |
| 20 | 60 mm | 19,2 mm | 60 | 9 | S |
| 21 | 61 mm | 19,6 mm | 61 | 9,5 | S1/2 |
| 22 | 62 mm | 19,8 mm | 62 | 10 | T1/2 |
| 23 | 63 mm | 20,2 mm | 63 | 10,5 | U1/2 |
| 24 | 64 mm | 20,6 mm | 64 | 11 | V |
| 25 | 65 mm | 20,8 mm | 65 | 11 | W |
| 26 | 66 mm | 21 mm | 66 | 11,5 | W1/2 |
| 27 | 67 mm | 21,4 mm | 67 | 12 | X1/2 |
| 28 | 68 mm | 21,6 mm | 68 | 12,5 | Y |
| 29 | 69 mm | 22 mm | 69 | 13 | Z1/2 |
| 30 | 70 mm | 22,4 mm | 70 | 13 | Z1 |
| 31 | 71 mm | 22,8 mm | 71 | 13,5 | |
| 32 | 72 mm | 23 mm | 72 | 14 | Z2 |
| 33 | 73 mm | 23,4 mm | 73 | 14 | |
| 34 | 74 mm | 23,6 mm | 74 | 14,5 | Z4 |
| 35 | 75 mm | 24 mm | 75 | 15 | |
| 36 | 76 mm | 24,2 mm | 76 | 15 | |